Library Laptop, Print Book, & Calculator Pick-up & Return Event - March 2nd & March 3rd, 2021
Hello Students,
Mark your calendar! On Tuesday, March 2nd and Wedesnday, March 3rd, Miramar College is hosting an on-campus Library Resource Event where students can pickup their confirmed Library material reservations, suchs as books, calculators, and laptops. They may also stop by to drop off any overdue Miramar College Library materials.
The health and safety of our students, faculty, staff, and the community are our top priority. During this event, face coverings shall be worn as required in the California Department of Public Health Face Covering Guidance. Patrons not wearing a mask covering their nose and mouth will not be served.
Online reservations will open Monday, February 8th.
Last day to submit reservations is Sunday, February 28th.
In order to pick up a Library laptop, book, or calculator, students MUST complete an online request form. Please see below for instructions.
Once the request has been processed, students will receive a confirmation email stating whether or not their requested item(s) are available and ready for pick-up in time for the March 2nd and 3rd San Diego Miramar College Check in/out Event. 
Students MUST also provide a valid government issued photo ID (e.g., Driver's License, Passport) along with their Student ID# at time of pickup. 
Please note, only one Library laptop Loan per student across the SDCCD campuses (Miramar College, Mesa College, & City College).
Dates and Hours of Service:
Tuesday, March 2nd from 10:00am to 1:00pm
Wednesday, March 3rd from 10:00am to 1:00pm
Location:  
L-LLRC Garage (Northeast side of building)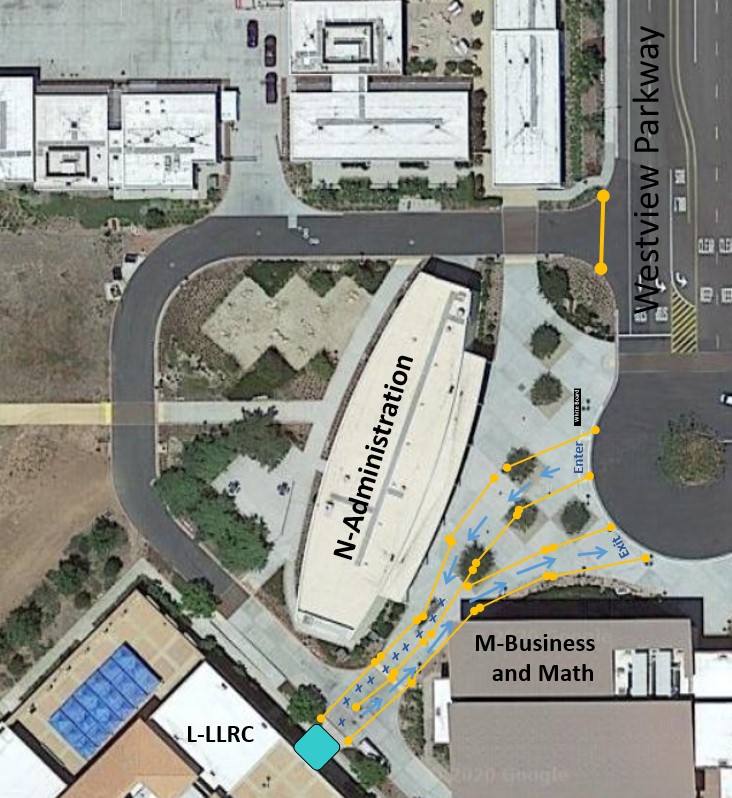 Just a reminder that the campus is still closed due to COVID-19. Students can temporarily park at the round-about at the end of Westview Parkway by the N-Administration building and walk to the L-LLRC Building.You can also park in Parking Lot 3 by the M-Business and Math building. Public transportation is accessible via Miramar College Transit Center. Our campus map can be found at https://www.sdmiramar.edu/index.php/campus/directions.
Online Reservation Instructions:
Navigate to the Miramar College Library website.
Search for library materials in OneSearch.

To search for student laptops type "Laptop Acer" in the search box, then click on "Laptop, Acer Aspire 5" or follow this direct link.
Follow this link to search for textbooks on reserve.
To search for other print materials, type your search terms in the search box and refine your results by limiting to Library: San Diego Miramar College.

Click the title of the laptop or library book/resource you wish to request.
On the "Get It" section of the page, click on "mySDCCD Login."
Log in with the following:

Username: your student 10-digit ID number.
Password: the password you use to log into your mySDCCD portal.
Only students who are enrolled in the current semester are able to place requests.

Click "Request."
Provide the following contact information in the comment field to assure that contact information is accurate within our library system:

Student ID#
Email address
Phone number
Checkout will be on a first-come-first-served basis while supplies last. Only currently enrolled San Diego Miramar College students may checkout laptops. Please provide a valid photo ID (e.g., driver's license, passport) along with your college ID during this event. 
Additional Information:
Library Book/Materials have a 1-month loan period. 
Laptops are loaned out for the current semester and must be returned at the end of semester.
Laptops and print (hard copy) books must be reserved online. Walk-in service is not available.
Miramar College does not provide any technical assistance laptops that are checked out to students.  Laptops that students check out are considered a personal device for the duration of the checkout period.  Students may configure and/or install software however they wish, but as with a personal laptop, students will need to arrange their own technical support if any is needed.
Students who were unable to pick up their reserved items from a previous event must re-submit their online reservations.
There are no renewals for materials checked out during the Spring 2021 semester. Be sure to return library materials by their due dates in order to avoid accruing fines.
Failure to return checked out materials on one of the above-mentioned dates will result in a negative hold being placed on your student account. This negative hold will restrict your enrollment activity, access to grades and transcripts, and withhold your degree or diploma.
If you already have an existing hold on your student account, please return the overdue materials and contact the Miramar Library staff at avmira@sdccd.edu to pay your fines and have your hold removed.
Just a reminder that the campus is still closed due to COVID-19. You might find it helpful to take a look at our campus map.
For questions regarding this process, please call (619) 388-7310 and leave a message, along with your contact info and college ID number. Staff will be checking messages (Mon.-Fri., 8:00am-5:00pm) and will do their best to respond by the next business day or sooner, when possible.  You may also email us at avmira@sdccd.edu.
The health of our students, faculty, staff and the community are our top priority.  For information about COVID-19 (Coronavirus) specifically, please visit https://sdmiramar.edu/covid-info.
Returning Your Checked-Out Library Books
Even though the library remains closed due to the COVID-19 pandemic, there is still a way for you to return the books you have checked out.
A self-service bookdrop has been set up near the main entrance to the H Building (Arts and Humanities).
To get there, enter parking lot #2 (the WiFi parking lot) from Black Mountain Road and head for the H Building. The bookdrop is located close to the curb right in front of the main entrance. Simply swing by and drop your books into the slot.
Parking lot #2 is open Monday-Thursday from 8am to 8pm and on Friday between 8am and 3pm.
Laptop computers & Calculators cannot be returned in the bookdrop.